video loops one channel works and installations

Installations


Happy Famous Artists NL Western Philosophy 2005

Video installations, loops and one channel works are an essential part of Directors Lounge. Moving images that go beyond the boundries of the screen or the narrated timeline expand the program literally. Many of the works that will be displayed this year are in a way timeless as they deal with moments of experience, a taken moment, looped endless, stretched or accelerated in time, thus making them cocoons of an instant. Others question our general perception of reality or resolve childhood memories. To present a wide variety of works regardless of time and space do we toggle the works on display. Don´t hesitate to ask if you are looking for a specific piece.





• some of the works to be shown




•Lorenzo Oggiano IT Quasi-Objects / Cinematic n.07 2005


still from Quasi-Objects / Cinematic n.07 by Lorenzo Oggiano

In this Sense Quasi-Objects regards actualization of data, production of biologically a-functional occurrences (bio-politically dysfunctional), dealing about Life, but without reference to the outcomes it is used to recognize; possibilities that can be viewed as transient outputs of an operative practice: aesthetics of process.
more



• Happy Famous Artists NL Western Philosophy 2005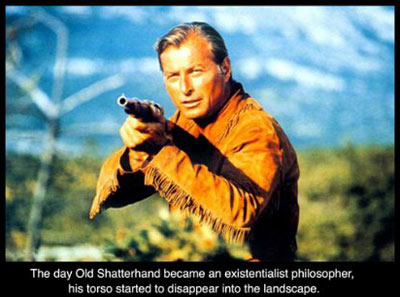 If we had a world of our own, everything would be nonsense.
Nothing would be what it is, because everything would be what it isn't. And contrariwise, what it is it wouldn't be, and what it wouldn't be, it would.
You see? Happy Famous Artists

Happy Famous Artists are a collective combining ideas of Intelligensius Anarchus and Jeff Blind.
Our work is multimedial and conceptual with main areas of inspiration being the sciences, philosophy and psychology, political and social phenomena on one side, and classical as well as contemporary art and popular culture on the other. Our key interest lies in the research of how these perceived authorities shape and influence general perception of reality.



• Frans Van Lent NL Staan 2002




The work of Frans van Lent (Rotterdam 1955) is characterised by simplicity of form and subject matter. The starting point is the artist's body and its locomotion in relationship to the landscape.

For the recording of STAAN he stood for a long time in an empty landscape with his back to the camera. He used ten consecutive minutes without any further editing to form a loop. The immobility of the artist forms a contrast to the continuously changing weather.

• Vadim Schaeffler DE Motion 2006



• Magda Bielesz PL swimming Lesson 2004




"I'm fascinated with states which I can not (perhaps as yet) experience. I can't swim. I fell down in the water when I was the child, so the only way for me to swim is to paint this, and I also made a swimming lesson video. The video is about this feeling: the only way to go to the sea for me is to go like a Jesus over the sea, because I'm afraid of the water. Thanks to this video my dreams come true."

more